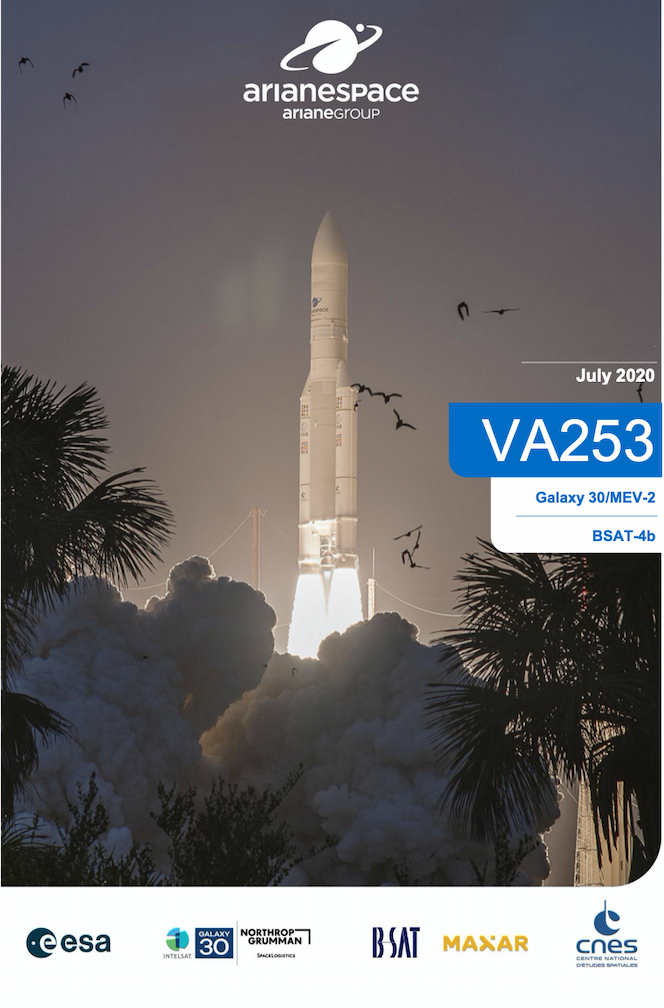 Arianespace has issued a new targeted launch date.
The progress of operations currently underway at the Final Assembly Building has enabled August 14 to be envisioned as the launch date for Ariane Flight 253 (VA253), with the possibility of an optimization in the process for the mission to be performed one day earlier.
If the flight is on August 14, liftoff will occur as early as possible during the following launch window:
Between 5:33 p.m. and 6:20 p.m. Washington, D.C. time,
Between 6:33 p.m. and 7:20 p.m. Kourou, French Guiana time,
Between 21:33 and 22:20 Universal time (UTC),
Between 11:33 p.m. and 12:20 a.m. Paris time, in the night of August 14 to 15,
Between 06:33 a.m. and 07:20 a.m. Japan time, in the morning of August 15.
Arianespace is applying its standard procedures to maintain the highest level of reliability for the benefit of its customers. The Ariane 5 launch vehicle and its three spacecraft payloads remain in stable and safe conditions.
Flight VA253: the sequence for success
Ariane 5 will deliver a total payload lift performance of approximately 10,468 kg. on the mission to geostationary transfer orbit (GTO), which is designated Flight VA253. This total factors in the three passengers, plus the workhorse vehicle's multi-payload deployment system and integration hardware.
G-30 and MEV-2 — both produced by Northrop Grumman to serve the operational needs of Intelsat — are stacked together in the upper position of Ariane 5's payload configuration. G-30 will be deployed first during the 47-minute flight sequence, followed by MEV-2.
To be released last as the mission's lower passenger, BSAT-4b is being launched by Arianespace as part of a turnkey contract between the Japanese operator B-SAT and the satellite manufacturer, Maxar.
Galaxy 30 (G-30) will be the first replacement satellite in Intelsat's North American Galaxy fleet refresh. It will provide high-performance broadcast distribution capabilities, including Ultra-High Definition (UHD) and over-the-top (OTT) streaming media, while also supporting broadband, mobility and enterprise network solutions.
The launch of G-30 demonstrates Intelsat's long-term commitment to its media customers and its media distribution neighborhoods, which have an unmatched penetration of cable headends in the United States.
Galaxy 30 will be the 62nd satellite launched by Arianespace for Intelsat.
Galaxy 30 will be the 29th Northrop Grumman satellite launched by Arianespace.
MEV-2 is supplied by Northrop Grumman for the company's wholly owned subsidiary, SpaceLogistics LLC. Intelsat 10-02 will be the first customer for the MEV-2. Once docked, it will control the satellite's orbit using its own thrusters. After its mission for IS- 10-02, MEV-2 will undock and be available for another customer's vehicle.
The first MEV, MEV-1, was launched in October 2019. It docked with Intelsat-901 in February 2020.
After MEV-2, Northrop Grumman and SpaceLogistics are developing a new generation of satellite servicing vehicles that could attach propulsion jetpacks to multiple spacecraft in a single mission.
MEV-2 will be the first satellite servicing vehicle launched by Arianespace.
MEV-2 will be the 30th Northrop Grumman satellite launched by Arianespace.
The BSAT-4b satellite, designed and built for Broadcasting Satellite System Corporation (B-SAT) – a leading broadcasting satellite operator in Japan – will be used for Direct-to-Home (DTH) television service above the Japan archipelago.
BSAT-4b satellite will serve as a backup system to BSAT-4a launched in September 2017. It will be the 10th Arianespace launch for B-SAT, and the satellite will provide Direct-To-Home (DTH) television to ensure exceptional 4K/8K ultra-high definition (UHD) video distribution across the Japan archipelago – like its BSAT-4a twin. BSAT- 4b is designed to provide service for 15 years or longer.
B-SAT is a Japanese company created in April 1993 to manage satellite procurement, control and management of broadcast satellites, supply basic broadcasting stations and all related operations and businesses.
Arianespace has launched all B-SAT satellites since the creation of this Japanese operator, reflecting the launch services company's exceptionally strong position in this market. This mission also underlines the exceptional quality of the partnership between Arianespace, Maxar (the satellite manufacturer) and the Japanese operator B-SAT.
The Arianespace market share of launch services for geostationary orbit satellites in Japan is 74% since Japan's first commercial satellite launch JCSAT-1 on Ariane in 1989. In addition, Arianespace has launched a